These directions show how to access up-to-date class rosters using Infinite Campus as a Substitute, then submitting period attendance the attendance clerk at the Middle or High School using a web tool.
1 - Go to the Staff page of the Logan-Hocking District website, then open Infinite Campus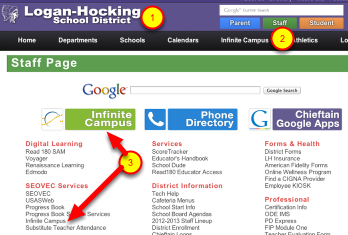 Logan-Hocking SD website is http://loganhocking.k12.oh.us
Click the green Staff button, under the search box
Click the Infinite Campus button or link
Log into Infinite Campus using the Username and Password listed in your Sub Folder
3 - Download current period rosters (please don't print these)
From the Index menu, click on Reports, then click on Sub Attendance Roster
Click on Period 1, scroll down Period 9, then hold the shift key down and click on Period 9
Choose the teacher you are subbing for
Click the Generate Report button
When the report opens, go the File menu and choose Save as to save the class rosters to your desktop for the rest of the day.
4 - Submit student absences for each Period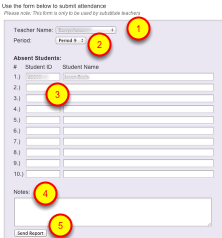 Return to the Staff Page of the district website, then click on the Substitute Teacher Attendance link located below the Infinite Campus link.
Choose the Teacher's Name
Choose the Period
Referencing the class roster, enter the ID & Name of student absence from class
You may use the notes box to enter students tardy to class, or whatever else you may need to share with the attendance clerk
Click the Send Report
Repeat this step for each period of the day.
Attendance needs to be submitted within 15 minutes of the period.