Chieftain Scholars Awards
ACE
Submitted by: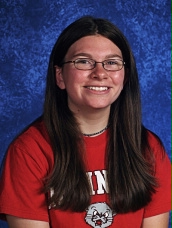 Logan High School is pleased to announce the selection of three Chieftain Scholars from the 2007-08 junior class. Jackie Davis, Hannah Elhard and Stefanie Rieder were chosen to receive this award based on their applications, which included two essays and teacher recommendations. As part of their award, Chieftain Scholars are invited to participate in a Regional Scholars Retreat with top students from other school districts in southeastern Ohio.

Davis and Elhard recently attended the two-day Regional Scholar Retreat held on April 23 & 24 at Geneva Hills in Lancaster, Ohio. Students participating in the retreat were challenged to learn more about themselves and others through a variety of activities including the high ropes course, ground initiatives and personality analysis. Presenters included Amy Dennis from Washington State University and Jim and Sara Collins, guidance counselors from Logan-Hocking Schools and New Lexington Schools, respectively. The Regional Scholars event was organized by the Southeastern Ohio Consortium of Coordinators of Gifted and Talented Education.

In addition to the Chieftain Scholar Award, Hannah Elhard has been awarded one of only seventy Martin Essex Scholar Awards from the state of Ohio. As part of her award, Hannah will attend the weeklong Martin Essex School for the Gifted on the campus of Ohio State University in June.


blog comments powered by

Disqus