STUDENT OF THE MONTH
Chieftain Elementary
Submitted by: Mr. Rice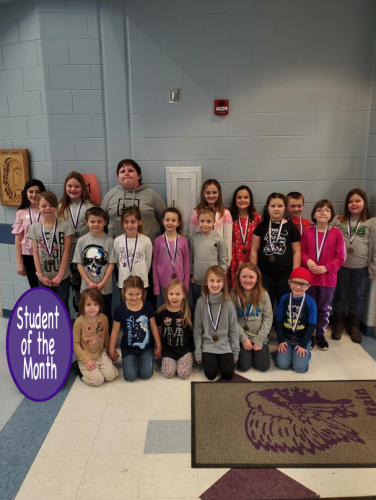 Chieftain Elementary hosted the monthly PTO meeting and recognized our Students of the Month for January and February. These students represent Chieftain Elementary's values of working hard and being nice.

January

Maci Everetts, Leonard Kylee Leonard, Caleb Pierce, Macie Thrapp, River Grubb, Abigail Cox, Amilli Brown, Issac Warren, Kaitlynn Turner, Emery Ferguson, Travis Amerine, Lillyonna Jones,
Ria Wintermute, Baylee Lanning, Makaylah Messer, Riley Rhinebolt, Elliana Berry, Molly Argabrite, and Jase Johnson .


February
Austin Neel, Hank Nunley, Natasha Fetherolf, Jacob Hill, Addison McDaniel, Emma Keck, Isaac
Hazlett, Peyton Chamberlain, Ava Casto, Kylee Wadsworth, Devon North, Lydia Begley, Brooklyn Bauman, Colton Dearth, Emma Vickroy, Jayson Metzler, Andrew Mcdaniel, Ian Delmatto, Minor Lewis, Emeline Ring, Nathaniel Gott, Brantley Lewis, and Hunter Leach.


blog comments powered by

Disqus