Parent Information Night for High School Course Registration - Feb. 21
Logan High School
Submitted by: Shari Boggs/Dani Bell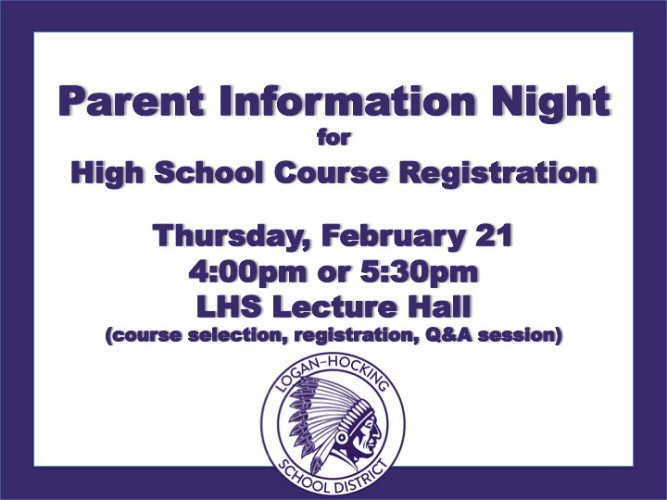 Any parent of a 2019-2020 high school student is invited to attend an information night on Thursday, February 21, in the Logan High School Lecture Hall.

The night will include information on course selection, registration, and a question and answer session so you can have all the information you need to help your student(s) choose the best courses for their 2019-2020 school year.

Two sessions will be held; choose the one that works best for your schedule. The first session begins at 4:00 PM and the second at 5:30 PM. This night is also the date for parent/teacher conferences at the high school, so stop by for information night while speaking with your student's teachers.

Also, the LHS Transition Network Team has invited several area agencies to join the parent teacher conference night. Representatives from the agencies will be available to speak with parents who have questions about what the agencies do and how they might help their students to transition from high school to adult living. Participating agencies are: SOCIL (Southeastern Ohio Center for Independent Living), HCBDD (Hocking County Board of Developmental Disabilities), and Capabilities. These agencies serve our student with special needs.

We look forward to seeing you there!



blog comments powered by

Disqus