LHMS FCCLA Power of One
Logan-Hocking Middle
Submitted by: Mrs. Sharon Shaw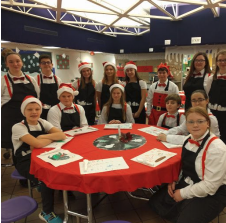 Family and Consumer Sciences 8th grade students completed 187 FCCLA Community Service hours as part of their National FCCLA Power of One: Take the Lead education program. This program helps guide students to develop, plan, carry out, and evaluate projects to improve the quality of life in their local community . Through their community projects, students experience character development and improve their critical and creative thinking, interpersonal communication, practical knowledge, and career preparation. Our 8th grade students learn more about themselves, others, and the world so that they can make a difference now and in the future.
FCCLA Power-of-One Take a Lead is a Community Service National Program is a dynamic and interactive program guides students through three essential topics:
● Learn - Students explore personal values, ethics, and ethical decision-making while evaluating
their community needs.
● Lead – Students learn how to use their leadership skills to serve their community and how to
transfer those servant leadership skills to the workplace.
● Serve – Students are introduced to the critical role community partnerships and advocacy play
in serving the needs of others while also developing their own community-based service.



blog comments powered by

Disqus