Sydney & Brice talk Chieftain Center with Mr. Shaw & Coy Blair!
Logan High School
Submitted by: Dani Bell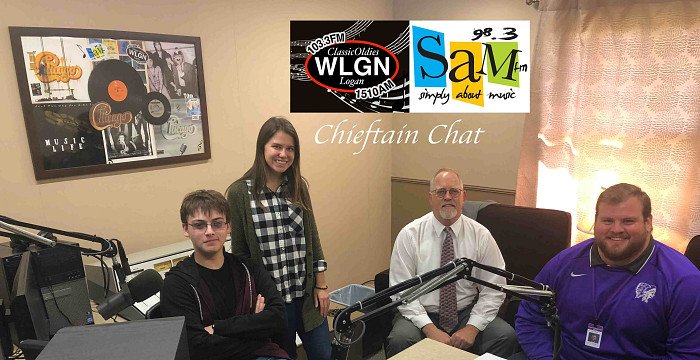 It's time for a full update on the Chieftain Center! Catch hosts Sydney & Brice today, at 7:15AM, as they interview LHSD Treasurer Paul Shaw & Chieftain Center Facility Manager Coy Blair.

Every Thursday morning, remember to tune into 98.3 SAMFM or 103.3, @ 7:15 AM, to hear our Weekly Chieftain Chat -the districtís LHS student-run radio show, named by the students and designed as another platform for our schools to stay connected to our community. Our awesome student hosts, LHS Seniors, Brice Berry & Sydney Lingerak, will share a variety of districtwide updates each week &, on occasion, will surprise you with a guest interview or host, as they train upcoming seniors to replace them next year.

The show offers students a unique opportunity to draft scripts and work directly with the local radio station to gain hands-on learning experience with recording and editing in the studio. Since beginning the radio show last school year, a couple LHS students even landed summer jobs at the station, by connecting them to this local business, we are so fortunate to have in our high schoolís backyard!

A special surprise is coming soon, with the release of a show theme song, which was created by our very own Mr. Matt Stone & Brice.

We extend a sincere thank you to General Manager, Teressa Salizzoni, for being such a passionate business partner on this student-led initiative.

We'll post the show's audio later today for those who are unable to listen to it live.

blog comments powered by

Disqus