Scholars Night - April 24th
Logan High School
Submitted by: Kim Norway/Dani Bell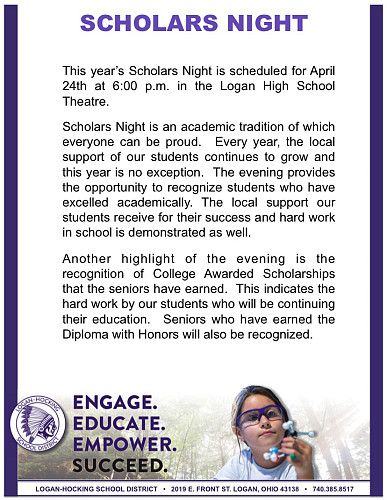 This year's Scholars Night is scheduled for April 24th at 6:00 p.m. in the Logan High School Theatre.

Scholars Night is an academic tradition of which everyone can be proud. Every year, the local support of our students continues to grow and this year is no exception. The evening provides the opportunity to recognize students who have excelled academically. The local support our students receive for their success and hard work in school is demonstrated as well.

Another highlight of the evening is the recognition of College Awarded Scholarships that the seniors have earned. This indicates the hard work by our students who will be continuing their education. Seniors who have earned the Diploma with Honors will also be recognized.



blog comments powered by

Disqus