Into the Woods Tea Party - Feb. 24
Logan High School
Submitted by: Dani Bell/John McClain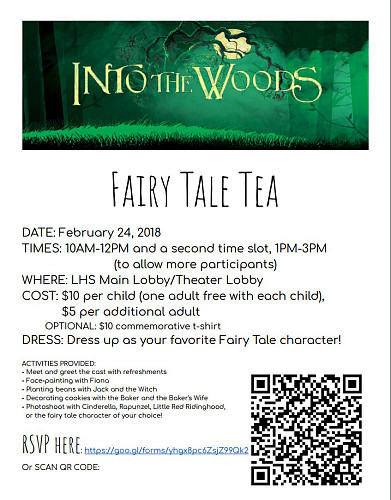 Slots are filling up quickly for the Fairy Tale Tea Party!
RSVP here:
https://docs.google.com/…/1FAIpQLSfXeXPLndL5nYoMuz…/viewform

Fairy Tale Tea - RSVP - READ INFO BELOW!
LHS's company for the production of Into The Woods and the Logan Choir Boosters are throwing a Fairy Tale Tea!
After the success of the Cinderella Tea two years ago, we have decided to host another tea with a few modifications from last time.

DATE: February 24, 2018
TIMES: 10AM-12PM and a second time slot, 1PM-3PM (to allow more participants)
WHERE: LHS Main Lobby/Theater Lobby
COST: $10 per child (one adult free with each child), $5 per additional adult
OPTIONAL: $10 commemorative t-shirt (youth sizes) (pictured below) (MUST BE ORDERED by FEB 20)
(adult sizes: $15)
DRESS: Dress up as your favorite Fairy Tale character!

ACTIVITIES PROVIDED:
- Meet and greet the cast with refreshments
- Face-painting with Fiona
- Planting beans with Jack and the Witch
- Decorating cookies with the Baker and the Baker's Wife
- Photoshoot with Cinderella, Rapunzel, Little Red Ridinghood, or the fairy tale character of your choice! (photos will be posted online after event)

CHECK-IN PROCEDURES:
- Please arrive about 30 minutes prior to each time slot to check-in. Check-in will be held in the LHS Main Lobby. Please RSVP ahead of time. Preference will be given to RSVP'd guests ONLY until 5 minutes after the start time of each tea. After that, we will allow non-RSVP'd guests to enter, until we are at capacity.

PAYMENT PROCEDURES:
After we receive your RSVP, you will receive a confirmation email to the address you provide below. That email will contain your balance due, and it will review where to send payment. Please plan to have payment in by February 22. (or communicate other arrangements with Suzie Moncrief, smoncrief@lhsd.k12.oh.us)

Please drop off payment or mail via USPS to LOGAN CHOIR BOOSTERS, Logan High School, 14470 State Route 328, Logan, Ohio 43138.

* Required
Email address *

Your email
Child Name *

Your answer
Child Gender *
Female
Male
Child Allergies?

Your answer
Parent Name *

Your answer
Please choose a time slot *
10AM-12PM
1PM-3PM
Additional Adults Attending? ($5/each) - Please list names.
Your answer

OPTIONAL: Commemorative T-Shirt

T-shirt costs (in addition to cost of tea)
Youth Sizes: $10 each
Adult Sizes: $15 each
Please specify what size and how many t-shirts you'd like to order.




blog comments powered by

Disqus