A Night at the Museum Family Night
Green Elementary
Submitted by: Rebecca Osburn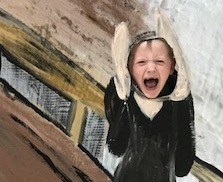 Green Elementary recently held their annual spring Family Night. The event theme was A Night at the Museum which centered around art and literacy. Nearly 300 guests participated in the evening which included the opportunities to create art in the style of of several modern artists- Mondrian, Calder, Chihuly, Picasso and more- and to learn about the artists and their history. Students also made edible cupcake masterpieces to enjoy as a snack and had the chance to take their picture as The Scream in a Edvard Munch inspired photo booth.

The event also showcased several local artists who shared their talents- Kelby Primmer performed music throughout the evening, Can Do Creations displayed their artwork, Mark Luicart shared cake decorating techniques, Josh Messmer shared his blown glass art and April Felipe of Dairy Barn helped to run a station.

We also unveiled our Chihuly inspired school wide art project- two colorful chandeliers created through the efforts of our whole school community! Families collected bottles and students washed, prepared, painted and cut them. The final pieces were assembled by Miss Woodburn and several volunteers before being hung in the front hallway. A true example of school wide synergy!

A great evening was had by students, staff and families!


blog comments powered by

Disqus