FFA Members Receive State Degree
Logan High School
Submitted by: Mr. Delong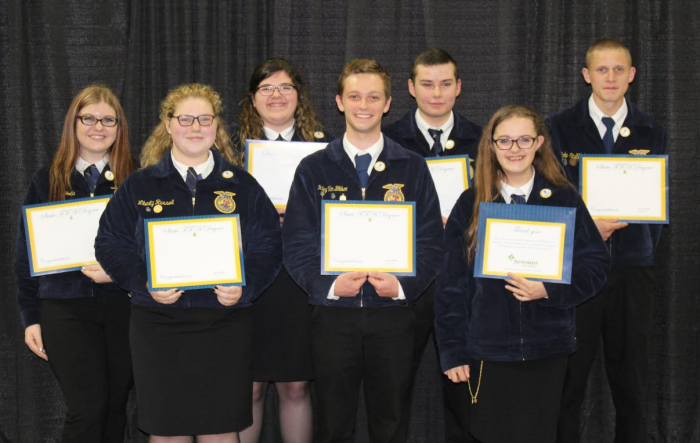 Seven members of the Chief Logan FFA received there Ohio FFA Degree at the 2017 Ohio FFA convention. These members earned the degree by completing Supervised Agricultural Experience (SAE)projects during their time in FFA. The members receiving the degree included; Ashley Loy, Dorian Poling, Kirsten Risch, Liberty Russell, Cole Stufflebeam, Delaney Tootle, and Riley Van Bibber.

The members worked numerous hours on their projects. The projects consisted of livestock, poultry, and goat production, community service, job placement for Wayne National Forest and Bishop Educational Gardens. The Ohio FFA Degree is the highest honor that is given at the state level. Each member received the gold pin significant of the award and the Ohio FFA Degree Certificate. Congratulations to all the recipients.

Pictured left to right - Delaney Tootle, Liberty Russell, Kirsten Risch, Riley Van Bibber, Dorian Poling, Ashley Loy, and Cole Stufflebeam.

blog comments powered by

Disqus