Shaw Teaches YEA! How to Manage Finanaces
Office of the Treasurer
Submitted by: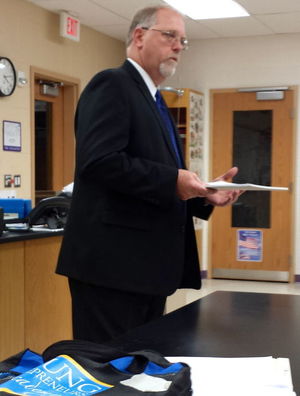 Students from the Young Entrepreneurs Academy (YEA!) at Logan Hocking School District were introduced to Paul Shaw, Treasurer and Chief Financial Officer of Logan-Hocking Schools, who spoke to the class about financial items to consider when starting a small business.

Students listened as he explored the different facets of business including budgeting, financing, and taxes while also touching on the role of an accountant and what small business owners should know about accounting services.

"Thank you for the opportunity to speak to the aspiring members of the Young Entrepreneurs Academy. Individuals such as those from YEA open more than 300 new businesses every business day in the United States," said Shaw.

Their ability to survive depends in large part on their ability to plan for the future and to meet present challenges of today's ever changing business environment. They need to know that there are professionals available to guide them along the way and to seek out guidance. Certified Public Accountants (CPAs) are the premier provider of business advice and technical assistance to small businesses.

As part of the YEA! program, students are introduced to all facets of the business world including, but not limited to, advertising, insurance agents, graphic designers, web developers and attorneys.

Over the course of this year's YEA! program, Eleven students will launch 11 businesses which include businesses such as a Bed and Breakfast, a Wing's Business and a Hand Carved Swords Business. This is only a sampling of the business ideas that are being developed. To learn about each of the businesses, plan to attend the Feb. 26 Investor Panel (Shark Tank) where students will give be giving pitches to a group of investors for real dollars for their businesses. The event will be held at Logan High School.

blog comments powered by

Disqus