Below are directions for accessing the FIP Module Two training.
Find the FIP Module Two link under Professional on the Staff Page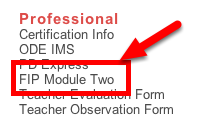 Click on Login in the upper right corner
Login

Your email address should be your flast@lhsd.k12.oh.us
Use the Forgot Password link if needed
Click on My Learning

Click Begin next to FP0002 - Clear Learning Targets

Once you complete the presentation, click on the Certificate link

Email your certificate to Trina Barrell

When you click on the certificate link from the previous step, your certificate PDF will download to your computer. Email this certificate as an attachment to Trina Barrell.