Updated-Chieftain Academy Student Picture Day
Digital Academy
Submitted by: Sarah Hicks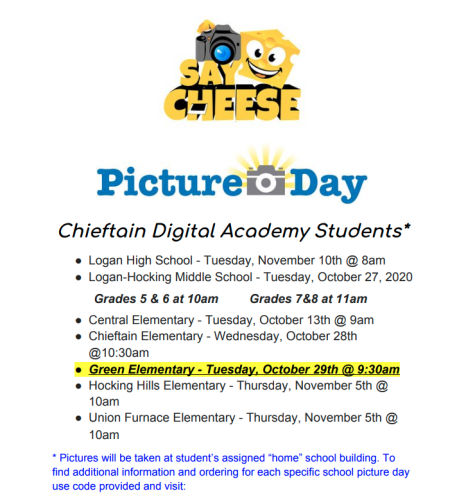 Please note Picture Day update for Green Elementary, Tuesday, October 29th, 9:30am.
Picture Day is scheduled for Chieftain Academy Students through Lifetouch. Each student's assigned home school has a
scheduled day for their digital students to come to the building
and have their picture taken.


Please see the attached letter for the individual school buildings'
time for their digital students arrival for picture day.

Please mark your calendars for this special event as there
WILL NOT be a retake time/date rescheduled.

Ordering your pictures online is easy : Click here to go to MyLifetouch
and enter your schools picture day code found on the attached
page; from there, you will be able to personalize your child's
picture package.
As always, if questions should arise feel free to contact the
Chieftain Digital Academy at 740-385-8517 ext. 38005.


blog comments powered by

Disqus