LHMS Choraliers Auditions: August 26th & 27th
Logan-Hocking Middle
Submitted by: Susan Kendig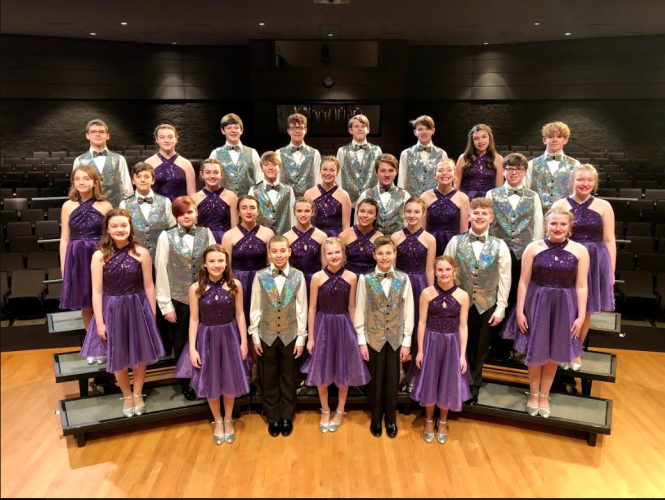 We are quickly approaching the beginning of the new academic year. It is at this time that many of our students, especially the incoming 7th grade class, will begin to anticipate the various scholastic and extracurricular opportunities available to our Middle School "upperclassmen." One such opportunity available to incoming 7th and 8th grade students is the ability to audition for Choraliers.

Choraliers is a 30+ member Show Choir consisting entirely of 7th and 8th grade students who are members of the vocal and/or instrumental music programs here at the Middle School. As an extension of the LHMS Vocal Music Department, Choraliers prepares and performs two twenty-five minute shows per year, which are then performed during a formal choir concert series at the end of each semester. In addition to the formal concerts, Choraliers also performs for various events and functions throughout the greater Logan community. We also conduct biannual tours of all the Logan-Hocking elementary buildings, as well as the Logan Christian and St. John schools.


In order to audition for Choraliers, students must be enrolled in 7th or 8th grade choir and/or band for the upcoming school year. Those who have not yet signed up for choir are welcome to audition for Choraliers, although if selected, a schedule change—if possible—will be necessary to finalize membership. New students to the Middle School who were formerly enrolled at the Logan Christian or St. John schools are also welcome to audition!


Auditions will be he held on the following dates:

Wednesday, August 26th, 2020 from 2:30-4:00pm

Thursday, August 27th, 2020 from 2:30-4:00pm


Auditionees must only attend one of the two audition days to be eligible for selection. Students are asked to meet in the gymnasium directly after school on both days. All Logan-Hocking School District policies and protocols regarding COVID-19 will be strictly enforced. These include—but are not limited to—masks and social distancing. Students will be promptly dismissed to the curb outside the theater/music entrance for pick-up at 4:00pm.


We look forward to another exciting year of auditions!

blog comments powered by

Disqus