Farewell Tradition Unites Math, Kindness & Community
Logan-Hocking Middle
Submitted by: Dani Bell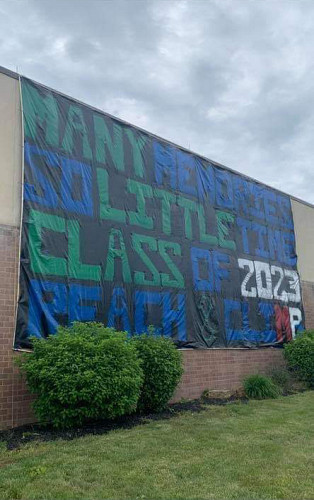 Logan-Hocking Middle School 7th grade math teachers, Kelly Wolfe, Stacey Ballenger, Bobby Cassady, Nick Barrell and Lance Roberts have many stand out moments in the classroom, but if tasked with choosing a most cherished project of the year, it would be the Annual 8th Grade Farewell Message, which was finalized last Friday.

Wolfe shared the special project's history, explaining it began with the late Monte Garrabrandt in 2001, when a message was created for 911 victims. Over the years, it was decided it should be raised from the grass and hung on the building for a better visual. Students have the opportunity to submit suggestions, with the final message being determined by a vote.

According to Ballenger, all 7th grade math teachers work for five days with their students to design, create, construct and paint a large message for the 8th graders preparing to head to the high school. Each year, the class makes a dedication to someone/something/a particular group or school. Ballenger explained, "This year, our dedication is in honor of Mark Potter, another local loved one who lost his life too soon. Mark was a member of the EMS, so we painted his initials in red/white within the word "climb." Not only was Mark a student of many of our current teachers, but his parents are/were members of our school wide family. Our students did a wonderful job and we are so proud of their hard work!"

The message reads:
MANY MEMORIES
SO LITTLE TIME
CLASS OF 2023
REACH & CLIMB

Wolfe and Ballenger shared their appreciation of all those who make the project possible each year, especially the administrators who allocate funding for the needed supplies, in order to continue the popular tradition.

There's no better way to summarize the farewell tradition than the recent social media post by Ballenger's sister, Kristi Pennington. Pennington expressed her pride for her sister and Wolfe, as teachers and people, for executing this project each year, stating, "It is so important and valued by the Logan-Hocking Schools Community! It teaches that expressing kindness and a sense of community is as valuable as the math lessons that went into the details of making this happen. A lovely tribute to the 8th grade class and to Mark Potter this year."

Best of luck to the Class of 2023, as they move on to LHS!


blog comments powered by

Disqus