Sophomore Class Council Hopes Pencil Pails Serve Dual Purpose
Logan High School
Submitted by: Melissa Watts/Dani Bell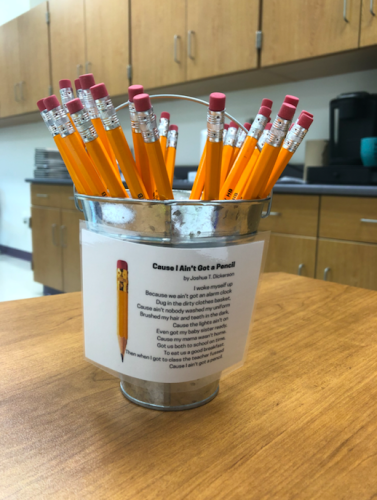 The Logan High School Sophomore Class Council sponsored a highly successful Pencil Drive, during which they collected nearly 2,400 pencils!

The inspiration for the drive came from the poem, "Cause I Ain't Got a Pencil," by Joshua T. Dickerson. The poem is about a student, who has an extremely rough home life, being yelled at by a teacher for not having a pencil, when not having a pencil is the least of his worries.

The Sophomore Class Council collected pencils and is currently distributing them back to teachers in special pails with the poem attached. Their hope is that the pencil pails will serve as a reminder to have empathy and remember that we don't always know what difficulties students face outside of the classroom.

The Sophomore Class Council would like to thank all of the first period classes that donated. However, a special thank you goes out to the top three donating classes: the Athletic Office first period aids, Ms. Sherlock's first period class, and Ms. Watts's first period class. These classes received donuts!

blog comments powered by

Disqus