SPRING BAND CONCERT
District
Submitted by: Pam Price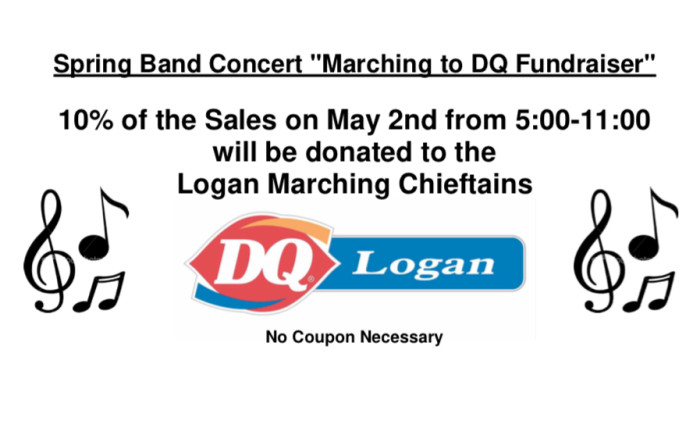 The Logan Hocking Instrumental Music Department will be presenting the Annual Spring Concert on Thursday, May 2 at 7:00 p.m. in the Logan High School Theatre. Pre-concert music will be presented by the L.H.S. Jazz Band beginning at approximately 6:20 p.m. Admission to the concert is $2 for students (excluding band students grades 6-12) and $3 for adults. Money collected goes back to band students for music, supplies, equipment, etc.

Director of Bands is Pam Price. Assistant Directors are Ben Wright and Jennifer Olis, Percussion instructor Ryan Garrett, and Professional Intern Reuben Miller. Reserved seats can be purchased through the Logan Band
Boosters website www.loganbandboosters.org for an additional cost.

The Sixth Grade Band will open the concert with "Infinity" by James Curnow
and Ghostbusters" arranged by Michael Story.
The Seventh Grade Band will perform "Sugar Creek Overture" by Robert Sheldon, "Invictus Rex" by Matthew Putnam, and "You Really Got Me" arranged by Michael Story.
The Eighth Grade Band will perform "Cayuga Lake Overture" by Michael Sweeney, "Awake the Iron" by Scott Watson, and "Heartbeat Song" arranged by Patrick Roszell.
The concert will close with the Senior High Concert Band performing the
following selections: "Thunderbolt Galop" by Fred Huffer, "Interplay" by Bill Calhoun, "Nth Time" by Zach Koors, "Mister Rogers' Neighborhood" arranged by Paul Murtha, and "I'll Be There For You" arranged by Doug Adams.
A reception will be held immediately following the concert in the cafeteria in honor of the graduating seniors. This years seniors are: Ainsleigh Beckett, Makayla Boysel, Kaylee Canter, Dustin Coulardot, Katelyn Dane, Austin Drennen, Bobby Finney, Anna Goss, Gwen Johnson, Jerry June, Micaela Leach, Brynn McKinley, Justin Miles, Will Nestor, Laceya Owens, Danielle Parrish, Ryan Patton, Alexa Poling, Caitlin Prideau, Caden Primmer, Olivia Proctor, Mallory Robison, Riley Smith, Ashlee Spicer, Samantha Strickland, Abby Sutton, Gabby
Trippier, Jacob Tucker, Emma Watters, and Kyleigh Williams.
Upcoming events for the Instrumental Music Department include Senior High Band Banquet on May 8; Graduation Ceremonies on May 24; Jazz Band in the Alumni Day Concert on May 25; Memorial Day Parade on May 27: High School Band Summer sectionals May 28 - 31; Pre-camp July 22-26 and July 29- Aug. 2 and Band Camp Aug. 5-8.

blog comments powered by

Disqus