School Safety Forum Confirms Safety Remains #1 Priority
District
Submitted by: Dani Bell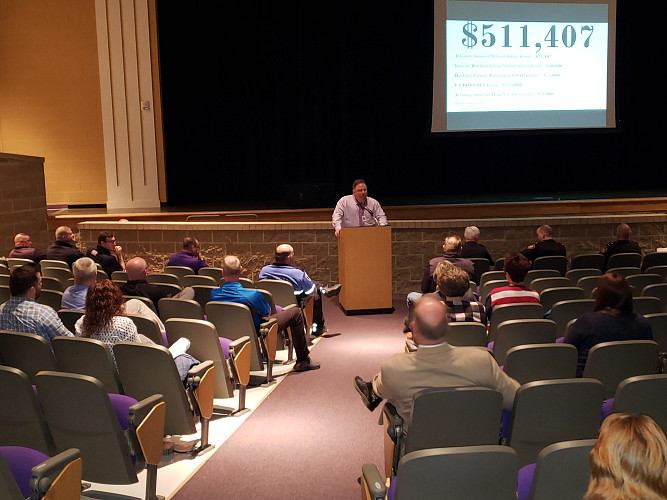 THANK YOU to the Logan-Hocking Community!
Superintendent Monte Bainter and the Logan-Hocking School District would like to extend a heartfelt thank you to all agency partners and community members who attended the School Safety Community Forum on April 3, 2019, at 7 PM, in the Logan High School theatre.
The evening's purpose was to offer the community a full update on the district's progress, since last year's Safety Forum. Those who were unable to attend are encouraged to read the recap below, and,
The Logan Daily News Article
,as the update will likely leave you very proud of the the district's commitment to keep everyone safe.
The amount of progress the safety committee and agency partners have made with school safety, in just one year, is impressive, as student and staff safety remain the top priority.

Mr. Bainter discussed the following safety strategies implemented in district:
-BDA - Communication system at Union Furnace
-Added (2) SRO'S & are in the process of adding a 3rd SRO
-Added an elementary guidance counselor
-Updated cameras in several buildings & in the process of updating in all the buildings
-Updating the phone system districtwide to be more interactive
-Installing 3m film (Presentation)
-All buildings have done a Full Scale Emergency Drill; several have done -Tabletop Simulations.
-Went to a lock out & lock down system
-Student/staff and community have been utilizing the See Something, Say --Something initiative and it's working.
-The 385.SAFE phone reports have been utilized, as well.
-RFP is due for the addition of a full-time mental health specialist.
-We are deploying Advanced Trauma Kits in all buildings & training staff to use.
-All subs in our district will be trained on our safety protocols.
-We have deployed new radios in some of the buildings.
-We are working to improve all of our communications systems districtwide (website, social media, direct calls, etc.).

Mr. Bainter introduced the following individuals who were all present.
-Hocking County Sheriff's Office:
Sheriff Lanny North, Chief Deputy David Valkinburg, Major Caleb Moritz, and Lieutenant Dustin Robison
-Logan Police Department:
Chief Jerry Mellinger and Captain Ryan Gabriel
-Hocking County EMS:
Chief Scott Brooker and Jacob Shepard, Paramedic /Community Relations
-SRO's:
Officer Dan Campbell, Officer Chris Smith, Deputy Ross Cowgill, Deputy Emily Kineer, Deputy Jason Wallace

Mr. Bainter discussed funding and outlined the grants that have been awarded to the district this year.
Attorney General School Safety Grant $21,407
BWC School Safety Grant $40,000
Hocking Co. Prosecutor's COAP Grant $75,000 (*DOJ Approval)
US DOJ COPS Grant $375,000
Attorney General Drug Use Prevention . $37,000 (DARE/Botvin)

DISTRICT TOTAL: $522,407

Strong partnerships with the City of Logan, Hocking County, and the state, allow us to do all this.

Thank you to all the speakers for providing excellent updates.
SPEAKERS:
-District's Safety Coordinator - Andy Rice
-Sheriff's Office - Lieutenant Robison
-Logan Police Department - Chief Mellinger
-Advanced Trauma Kits Demonstration Hocking County EMS - Chief Brooker and Paramedic Jacob Shepard
-Presentation on 3M - Officer Campbell & Deputy Cowgill

Mr. Bainter addressed the following submitted questions/concerns, while also welcoming any additional questions from the audience.
-The safety on school bus -kids are vaping, cussing, fighting, screaming
-No Fence around the playground at Chieftain Elementary
-Parking lot at Chieftain

THANK YOU'S
Hocking County EMA, Hocking County EMS, Hocking County Sheriff's Office
Logan Fire Department, Logan Police Department, Andy Rice, District's Safety Coordinator, District Safety Team Committee Members, District Technology Department, Congressman Steve Stivers, The Logan Daily News, and 98.3 SAM FM/103.3 WLGN

LHSD Safety Team Members:
Superintendent Monte Bainter
Assistant Superintendent Christy Bosch
Principals: Ken Dille, Eli Hacker, Andy Rice (LHSD Safety Coordinator)
Technology Coordinator Josh Straus
Lieutenant Dustin Robison, HCSO
Deputy Ross Cowgill
Deputy Emily Kineer
Deputy Jason Wallace
Officer Dan Campbell, LPD
Officer Chris Smith, LPD






blog comments powered by

Disqus