LHMS FCCLA Wins Outstanding Chapter Gold Award
Logan-Hocking Middle
Submitted by: Mrs. Sharon Shaw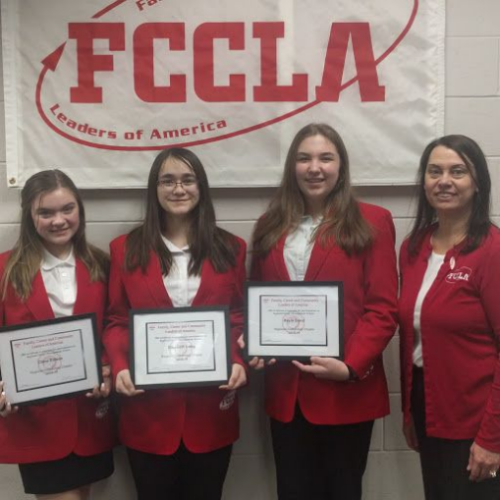 On Saturday, March 9, 2019, 8th grade students Chloe Ellison, Elizabeth Long and Kayle Bond, FCCLA Middle School Chapter Members, received Outstanding Chapter Gold Award at the Regional FCCLA Competition.

The Outstanding Chapter Career Development Event consists of a team event that
promotes, plans, and conducts a well-balanced Program of Work that supports strategic alignment with state and national Family, Career and Community Leaders of America (FCCLA). Students must be affiliated member of the state and national organization and and are enrolled in the Logan-Hocking School District Family and Consumer Sciences courses. The Middle and HIgh school FCCLA members will advance to the FCCLA State Leadership Conference for their Outstanding Chapter Event.

Pictured above from front left are Chloe Ellison, Elizabeth Long, Kayle Bond (8th grade) and Mrs. Sharon Shaw FCCLA Middle School Advisor.

blog comments powered by

Disqus