Community Leaders Present Positive Economic Forecast
Logan High School
Submitted by: Dani Bell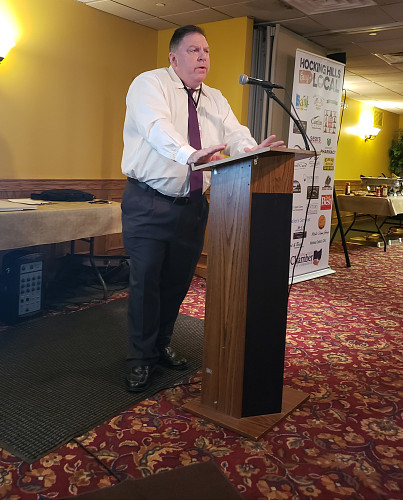 Despite the weather, many community members gathered, this morning, to discuss Hocking County's economic forecast, during the Hocking Hills Chamber of Commerce Annual Groundhog Breakfast.

Various community leaders presented their promising outlooks for the near future - all included projects, events, and ideas for positive growth and development for our area.

Mayor Greg Fraunfelter, City of Logan
Commissioner Jeff Dickerson, Hocking County
James Martin & Audrey Martin, Hocking Hills Tourism Association
Superintendent Monte Bainter, Logan-Hocking School District
Dr. John Woltz, Logan Theatre Board Member
Joy Davis, Executive Director, Hocking County CIC
Joyce Gerstner, Partner in Logan Anew

Congratulations to Commissioner Dickerson on being the recipient of the Hocking Hank Award!

Thank you to the Hocking Hills Chamber of Commerce for hosting the annual event, and also to our business sponsors who agreed to allow our students to job shadow, once the weather improves.

For more details on today's event, visit HHCOC, 98.3 SAM FM/103.3 WLGN and The Logan Daily News.






blog comments powered by

Disqus