LHMS Hosts Various Activities Focusing on Being Kind & Standing Up Against Bullying
Logan-Hocking Middle
Submitted by: Wendy Cook/Dani Bell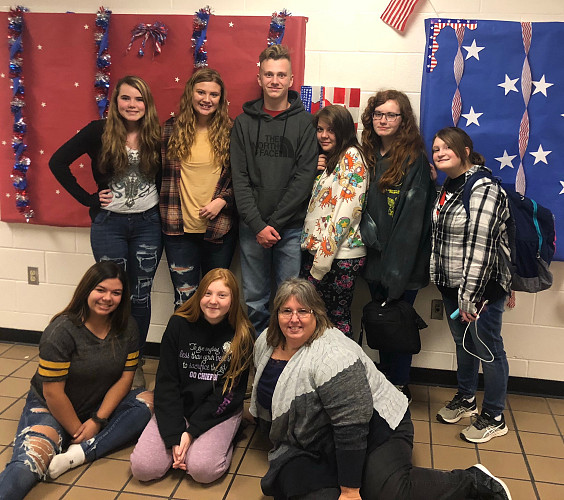 "Dude, Be Kind!" Week included World Kindness Day, which falls every November 13, and is another initiative to make the world a better place by celebrating good deeds and pledging acts of kindness. While it must be made clear, DBK week is pro-positive behavior, some of the schools in the district still recognized that the week also overlapped Anti-bullying Week, so important connections were made in various activities.

Spearheaded by Wendy Cook, The "WE CAN" Make A Difference Club from Project SAFE hosted creative kindness focused activities at the Logan-Hocking Middle School:

-Veterans Luncheon on Tuesday, where the students wore Red/White/Blue or Camo to Fight for the Freedom to Be Kind and hosted over 60 veterans for lunch.

Mrs. Sharon Shaw's FCCLA 8th graders decorated the Veterans' Lunch/Freedom to be Kind Celebration: Hannah Marcum, Avery Horn, Chase Meyer, Autumn Barker, Lilly Sheline, Sydney Vincent, Sarah Leon, Callie Nelson, Nevaeh Stufflebeam, led by Mrs. Wendy Cook. Mrs. Cheney's kids created a THANK YOU for each lunch and the veterans all walked down the hallway to leave with a clap out from the students. The vets also received a soldier of love, a placemat and a parting gift from the students. Wendy Cook wishes to thank all who participated in any way.

-Favorite Superhero Day Wednesday allowed students to dress accordingly to heroically stand up against unkind behavior.

-Dude Be Kind T-Shirt Day, Friday, includes an invitation to view a free movie, To Save A Life, in the LHMS theatre.




blog comments powered by

Disqus