Chief Logan FFA Attends 91st National Convention
Logan High School
Submitted by: Chief Logan FFA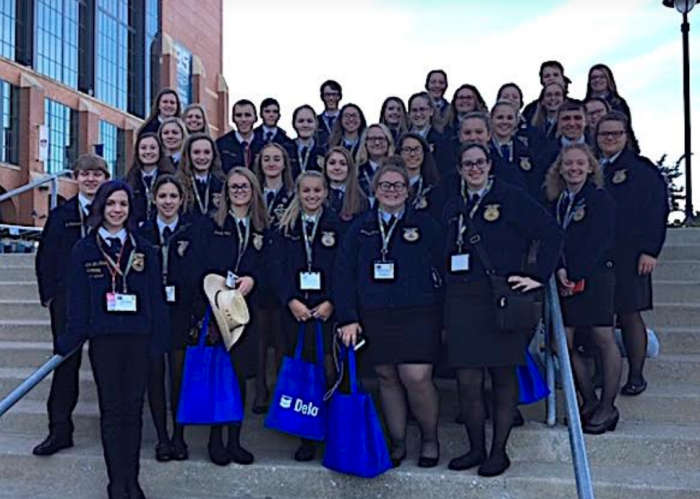 Thirty-seven members of the Chief Logan FFA traveled to Indianapolis, Indiana, October 24-27, 2018 to attend the National FFA Convention. 69,944 members and guests from across the United States were in attendance. The theme for this years convention was "Just One".
Guest speakers shared how one person can make a difference. Those in attendance were able to go to the opening session, watch the National FFA Band and Choir as well as attend the Career Expo. Many agri-businesses, colleges and universities were represented at the expo. Convention sessions were held in Bankers Life Fieldhouse, home of the Indianapolis Pacers. The career expo was held in the Indianapolis Convention Center.
The major entertainment of the convention was a country music concert. Ned Ledoux was the opening act for country music great, Garth Brooks. Their performances were held in Lucas Oil Stadium, home of the Indianapolis Colts.
In addition to the convention, students visited Fair Oaks Farms. This is one of the largest dairies in the United States, they milk 33,000 cows, three time per day. They also have 2,700 sows on the farm. Students toured both areas along with the crops area. In the milking parlor, students watched cows being milked as they traveled around a carousel. The carousel carried seventy-four cows at a time in a continuous motion.This is a very impressive tour. The farm also uses anaerobic digesters to harvest methane from the manure and produce electricity. Over at the swine facility, students observed the entire process of raising swine from sows farrowing, to the feeding facilities, and to the stage where the hogs were ready to be harvested.
Members took a night hike through downtown Indy. The visited a 9-11 memorial as well as the walking around the state capitol building. After the walk, they attended the Buckeye Bash. The Buckeye Bash is a gathering held in the Marriott Hotel ballrooms for Ohio FFA members attending the convention. The event is sponsored by the Ohio FFA Association. Jungle Jims was the last tour of the trip. Everyone in attendance had a wonderful time.

blog comments powered by

Disqus