Upperclassmen Add Encouragement to Younger Students First Day -Sign Up Today!
Logan High School
Submitted by: Kim Norway/Dani Bell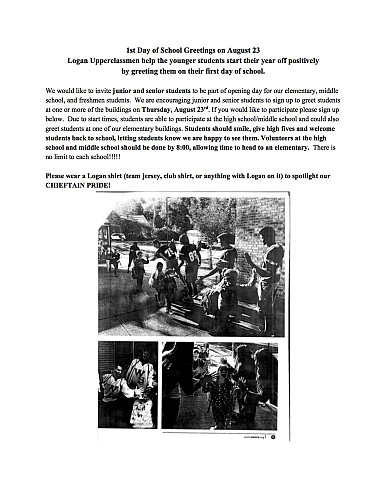 1st Day of School Greetings on Thursday, August 23rd.

Logan Upperclassmen are being asked to do something very special to help the younger students start their year off positively, by greeting them on their first day of school.

We would like to invite junior and senior students to be part of opening day for our elementary, middle school, and freshmen students. We are encouraging junior and senior students to sign up to greet students at one or more of the buildings on Thursday, August 23rd. Due to start times, students are able to participate at the high school/middle school and could also greet students at one of our elementary buildings. Students should smile, give high fives and welcome students back to school, letting students know we are happy to see them. Volunteers at the high school and middle school should be done by 8:00, allowing time to head to an elementary. There is no limit to each school!!!!!

Please wear a Logan shirt (team jersey, club shirt, or anything with Logan on it) to spotlight our CHIEFTAIN PRIDE!

If you would like to participate please sign up below.

https://docs.google.com/document/d/1Eau_mZfbO-9eV16fjdKjb9AeQnDbjj0aUOkYVCpm4p8/edit?usp=sharing

Special thank you to Theresa Schultheiss, Officer Campbell and Kim Norway for their combined effort in planning this fantastic idea!!

blog comments powered by

Disqus