Brooks, Krannitz & Bell Boys Selected as LHS' American Legion Buckeye Boys State Delegates
Logan High School
Submitted by: Dani Bell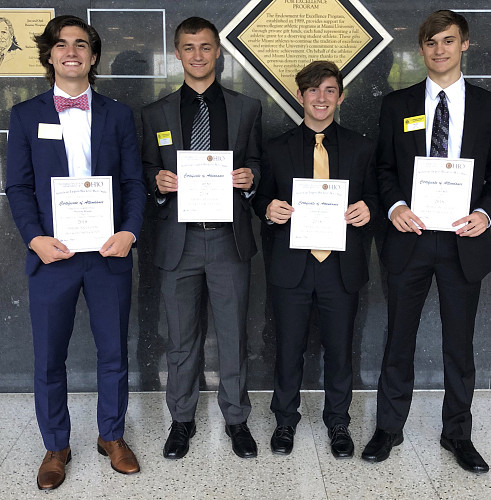 American Legion Buckeye Boys State @OhioBBS welcomed (4) LHS juniors -now seniors, to the (8) day conference, at Miami University, this past week.

Congratulations Wes Brooks, Caleb Bell, Carter Krannitz, & Coby Bell on being selected & so positively representing our LHSD.
#AWeekToShapeALifetime #OHBBS18

Additional details & photos will be posted regarding the 2018 Buckeye Boys State, as well as Buckeye Girls State.

Interested in more information on the program? Visit http://www.ohiobuckeyeboysstate.com/.

"American Legion Buckeye Boys State is an eight-day hands-on experience in the operation of the democratic form of government, the organization of political parties, and the relationship of one to the other in shaping Ohio government.

Founded in 1936, Buckeye Boys State is the largest Boys State program in the nation with an attendance of over 1,200 young men annually, representing nearly 600 Ohio High Schools, several on-line High Schools, and the Home Schooled Community.

The American Legion Buckeye Boys State program is sponsored by the Ohio American Legion, the largest veterans organization in the State of Ohio.

At Boys State, young men learn about city, county, and state government through a non-partisan objective education approach. The young men also form friendships which will last a lifetime!

Questions about Buckeye Boys State?
Contact Preston Keith, BBS Director, at: pmdirector@ohiolegion.com"



blog comments powered by

Disqus