Deadline to Nominate for Salute to Excellence is Near - June 1st
District
Submitted by: Teressa Glenn/Dani Bell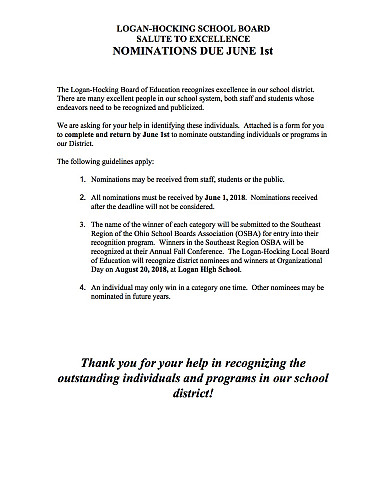 Reminder to make someone's day & nominate them for their efforts in our district.
Deadline to submit nominations is June 1st!

The Logan-Hocking Local Board of Education will again be recognizing individuals and programs through the Salute to Excellence Program. This program recognizes those who have demonstrated excellence in our school district.

We are asking for your assistance in identifying the many deserving people for these awards. Recognition will be given to outstanding faculty, classified staff, volunteers, students, administrators, programs and community business leaders.

The name of the winner of each category will be submitted to the Southeast Region of the Ohio School Boards Association (OSBA) for entry into their recognition program. Winners in the Southeast Region OSBA will be recognized at their Annual Fall Conference. The Logan-Hocking Local Board of Education will recognize district nominees and winners at Organizational Day on August 20, 2018, at Logan High School.

Guidelines and a nomination forms are attached. There will also be nomination forms available in the office at each school building and the Board Office.

Please return completed nomination forms to Teressa Glenn, at the Board Office, by June 1, 2018.

tglenn@lhsd.k12.oh.us
Fax: 740.385.3683
2019 E. Front Street
Logan, OH 43138

If you have any questions, please contact Teressa at 740.385.8517 ext 2701.








blog comments powered by

Disqus