Chief Logan FFA - State Runner-up in Environmental and Natural Resources CDE
Logan High School
Submitted by: Chief Logan FFA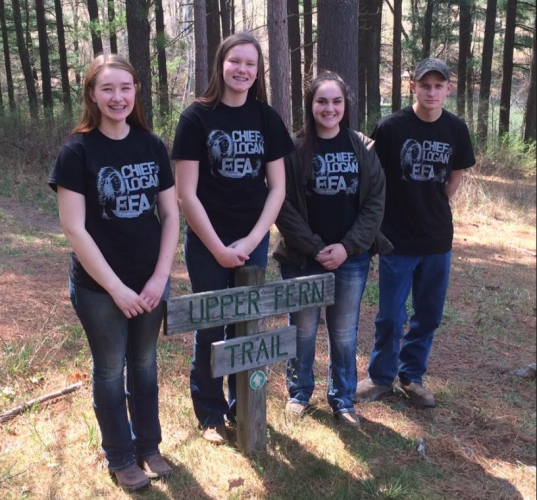 Teams from across Ohio competed in various natural resource Career Development Events. They began last fall with the Ohio FFA forestry CDE, followed by urban soils, rural soils, and concluded with nature interpretation and wildlife CDE this spring. The top five teams from each event earned the right to compete in the Ohio FFA environmental and natural resources CDE which was held Friday, April 13, 2018 at Zane State Community College land lab. Chief Logan qualified for the event by placing third in the Ohio forestry CDE.
Chief Logan placed second in the state competition. Bethany Starlin, Abigail Downs, Cole Stufflebeam, and Heidi McGrady comprised the Logan team. Each member of the team completed an individual environmental and natural resources general knowledge exam. They completed a team presentation on possible solutions for preventing animal and plant specie extinction. They also completed practicums in the areas soil, water, and environmental analysis. These team activities were based on real life scenarios. In addition, they used a GPS unit to
mark waypoints and locate specific items.
Fredericktown FFA placed first in the event and will be representing Ohio in the national contest next October in Lafayette, Indiana. Chief Logan, second, will be representing Ohio next September in Springfield, Massachusetts at the Big E regional CDE. Upper Sandusky placed third, Versailles FFA fourth, and Buckeye Career Center FFA placed fifth to round out the top five placings.

Team members from left to right in the picture are Heidi McGrady, Bethany Starlin, Abigail Downs, and Cole Stufflebeam.

blog comments powered by

Disqus