Logan High School announces its next production!
Logan High School
Submitted by: Shelly Riggs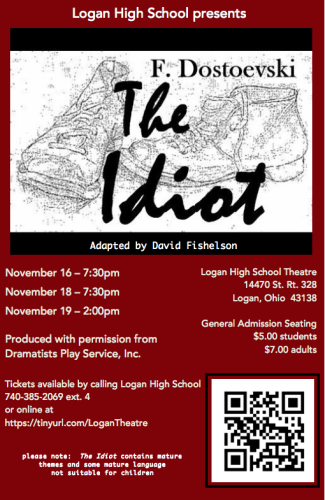 Opening night for The Idiot is November 16th! This adaptation of the Dostoevsky novel asks us the question, "Can a perfect person save a corrupt society?"
The Idiot is adapted by David Fishelson and produced with permission from Dramatists Publishing, Inc.

Returning to St. Petersburg from a Swiss sanatorium, the gentle and naive Prince Myshkin - known as 'the idiot' - pays a visit to his distant relative General Yepanchin and proceeds to charm the General, his wife and his three daughters. But his life is thrown into turmoil when he chances on a photograph of the beautiful Nastasya Filipovna. Utterly infatuated with her, he soon finds himself caught up in a love triangle and drawn into a web of blackmail and betrayal.

Shows are Thursday, November 16 at 7:30pm, Saturday, November 18 at 7:30pm, and Sunday, November 19 at 2:00pm in the Logan High School Theatre. The production is being performed in an intimate setting, with the audience seated on the stage in a thrust-style theatre. Patrons may remember this style of theatre from the 2013 LHS production of Who Will Carry the Word? Tickets are $7 for adults and $5 for students, and are available in the high school athletic office or online. Seating is limited, so advance purchase of tickets is highly recommended.
Click here to purchase tickets online.
Patrons are advised that The Idiot contains some language and mature content. The Idiot is not appropriate for children.

blog comments powered by

Disqus