HS Announcements 9/5
Logan High School
Submitted by: High School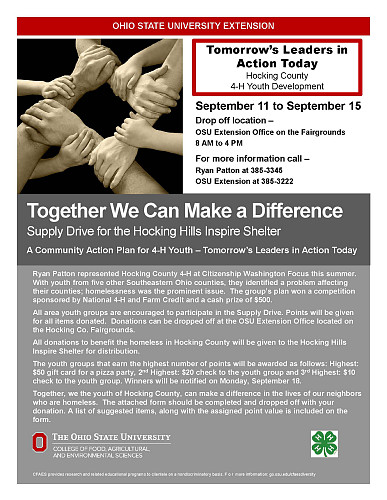 Early Dismissals: Beginning September 1st, ALL early dismissals must be requested by a parent note, parent email, or parent pick-up to sign out the student. After August 31st, LHS Attendance Office will no longer accept early dismissals from phone calls and voicemails. Contact Attendance: attendance@lhsd.k12.oh.us

Student Council/Class Officers: Student Council and Class Officer Elections will take place next Tuesday, September 12th. This is a change! Please be on the look out for a Google Form ballot in your email the morning of 9/12. Good luck to all candidates!

Key Club: The first meeting is on Wednesday, September 6th in Rm. 202 during lunch periods. New members welcome. For questions, contact Mrs. Myers in 202.

CCP Student Advising Meeting will take place on Thursday, September 7th @ 8:15am in LHS Theater with college representatives. This is a new requirement of CCP. Students will be called to Theater with a shared list.

Hocking County Youth Fair Board:
Ryan Patton is leading a Supply Drive for the Hocking Hills Inspire Shelter as part of Together We Can Make a Difference. Prizes will be given out for youth groups participating.

Hay Bale Toss Contest on Sunday, September 10th at 7pm. Event information is available for pick-up in Main Office.

Student School Forms: Please complete and return required school forms to your 1st period teacher: 1. Blue Emergency Medical Card 2. Yellow Internet User Policy 3. School Lunch Form. Teachers should send collected forms to Student Services Office.


blog comments powered by

Disqus