Important Dates from the Athletic Office
Logan High School
Submitted by: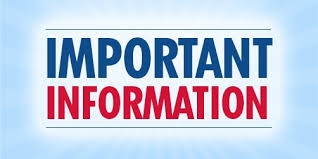 Important Dates from the Athletic Office:
July 27th - Coaches Meeting, 4:30pm, LHS Lecture Hall.
August 1st - Season Tickets ON SALE, 8:00am to 3:00pm - LHS Athletic Office.
August 1st - Parent Athlete Meeting, 6:00pm LHS Theater.
August 3rd - Parent Athlete Meeting, 6:00pm LHS Theater.
Final Forms - New System to track paperwork for athletes.

LOGAN — Starting with the upcoming fall sports season, the Logan High School Athletic Department is participating in a new system that helps better coordinate keeping track of paperwork for its athletes.
Parents and athletes in grades seven through 12 must set up an account in the system, known as "FinalForms," by going to the Logan-Hocking School District website loganhocking.k12.oh.us , clicking "athletics" under the heading "athletics home," and following the information in the "FinalForms Parent Registration Guide" link.
There, users will find the https://loganhocking-oh.finalforms.comlink.
All athletes must have a FinalForms account set up using their school email address, according to Theresa Schultheiss, LHS activities director.
"The only form that has to be turned in to the athletic office or middle school office is the athlete's physical form," she said. "All other required forms are available on the site and can be signed by both the parent and the athlete.
Schultheiss said parents and athletes must sign all forms and athletes must have a current physical for eligibility and noted that FinalForms keeps all information private and can be updated annually for changes as they become necessary.
Contact Schultheiss (385-2069, ext. 4) for more information.



blog comments powered by

Disqus