Kindergarten PATH to Careers
Central Elementary
Submitted by: Mrs. Van Horn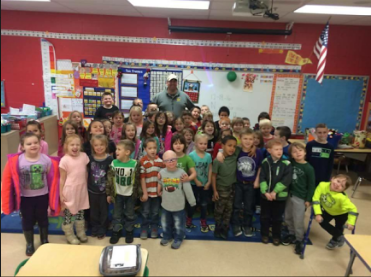 Ms. Wilson asked her kindergarten parents if they had any hobbies or special talents they would like to share with the class this year. They sure did deliver!
At Christmas time our student, Noah Graves, had his grandpa, Drew Graves, come in and share about being Hocking County's dog warden. He presented to our class and Mrs. Collins class, our first grade buddy class. We collected supplies for the shelter and made the dogs homemade dog treats for Christmas presents.
Maggie Curtis' mom, Katie Curtis, a RN at HVCH, did a presentation and experiment on hand washing. She also told us all about her job.
Carson Ellinger's mom, Molly Ellinger, and grandpa,Terry Thrush. , are volunteer firemen. They brought in a fire truck, fire gear, and even donated badges and fire hats for each student to take home. It was a great review of our fire safety lessons.



blog comments powered by

Disqus