Chief Logan FFA Wins District Agricultural Communications CDE
Logan High School
Submitted by: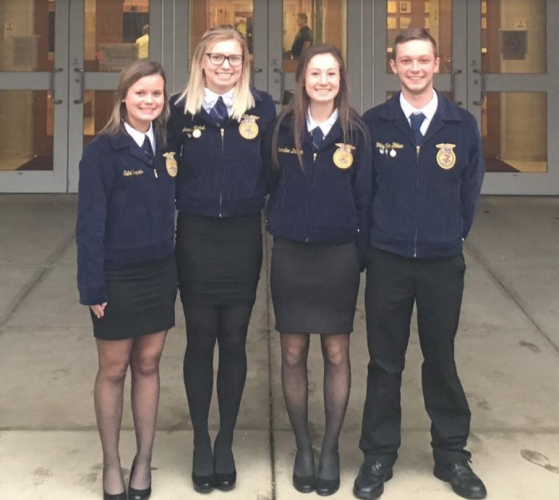 On Monday January 23, 2017 the Chief Logan FFA chapter competed in the District 10
Agricultural Communications contest that took place at Miller High School. Members of the team included Lexis Fickel, Riley VanBibber, Sidni Harris and Emmalee Dicken. The team placed first in the district and will move on to the state competition that will be held Saturday February 11, 2017 at The Ohio State University. The contest includes a media plan, communication quiz, editing exercise, web design, journalistic writing, video production and opinion writing activities.

The purpose of the agricultural communications career development event is to provide individuals with practical communications skills necessary to pursue career opportunities in agricultural communications. Public communications about agricultural products, practices and policies are essential to the future of agriculture. Students that are equipped with strong communication skills, have developed teamwork skills, and can use a variety of media to help the public understand issues related to the industry of agriculture have a bright future in the job market.

blog comments powered by

Disqus