LHMS Winners for State Art Shows
Logan-Hocking Middle
Submitted by: Heather Hacker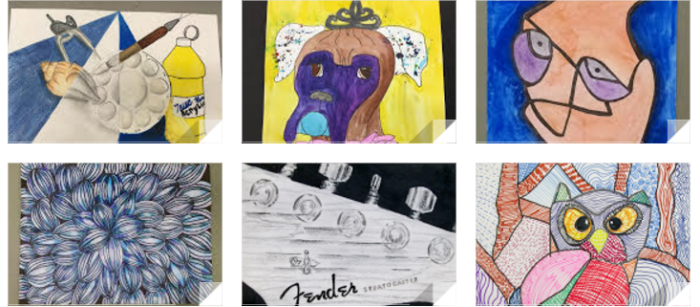 March is Youth Art Month and the art department at Logan-Hocking Middle School is pleased to announce our winners for the state art shows this year. Each school year, art teachers from all 9 regions of the state are allowed to submit five of their best pieces of student artwork for regional jurying. From those five pieces, artwork has the possibility to be selected for the Ohio Art Education Association state shows. The first show, Young People's Art Exhibit (YPAE), will present work from 5th Grader Kiley Thompson (Suzanne Oldham), 7th grader Emaurice McKinney (Heather Ann Hacker), and 8th grader Malory Abram (Roxanna Lehman). The second art show, Youth Art Month Exhibit (YAM), will present artwork from 6th grader Jaden Powell (Oldham), 7th grader Caidence Goldsberry (Hacker), and 5th grader Micaiah Murata (Lehman).

The selected artwork will be on display for the month of March. Those works accepted for the YPAE will be on displayed at the Rhodes State Office Tower, those accepted for YAM will be displayed at the State Teacher's Retirement Systems (STRS) building in downtown Columbus. A reception will be held on Saturday, March 11 to present each artist with a certificate. This is an amazing accomplishment for our students and as an art department as each exhibit showcases just one hundred to one hundred and fifty student works of art. We are all very proud of these young artists!

A variety of artwork was chosen this year. Goldsberry won with her multi-media still life. McKinney won with a watercolor dog, which she created in memory of a dog that had recently passed. Thompson created an amazing piece of Op-Art (optical illusion) done with marker and colored pencil, and Powell won with an surrealistic watercolor painting. Abram created a stunning zoomed in drawing of a Fender Stratocaster, and Murata created an owl embellished with linear patterning using marker as the medium. Abram was a student in Lehman's Honors Art course first semester. Each of these students have done a great job with the artwork they have produced this year. We're really excited these students are representing our school with such incredible artwork.



blog comments powered by

Disqus