Auditor of State Award
Office of the Treasurer
Submitted by: Teressa Glenn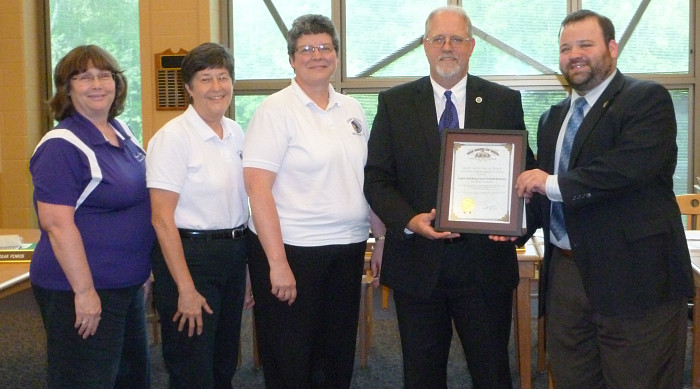 4th Year in a Row Auditor of State Recognizes School District with Highest Award for Financial Accountability

Hocking County – Auditor of State Dave Yost's office presented Logan-Hocking Local School District officials with the Auditor of State Award with Distinction for their fiscal 2014 audit. This is the highest award bestowed by the Auditor of State and the fourth year in a row for Logan-Hocking to receive this distinguished award.

"While a school's primary concern is its students, it must also remain accountable to taxpayers," Auditor Yost said. "Accurate record keeping is clearly a priority for the Logan-Hocking Local School District." The Auditor of State performs more than 5,800 audits on state and local government agencies including school districts, cities, counties, townships, villages, libraries, universities, and other agencies and commissions that manage public funds.

Paul F. Shaw CPA, Treasurer and Chief Fiscal Officer for the School District accepted the award on behalf of the local district. In doing so, he stated that it is truly a "district-wide award, extending from the Treasurer's Office and the Superintendent's Office to each school building and department where all of our employees faithfully and dutifully perform their assigned responsibilities on a daily basis."

Shaw added that this award is another indicator of the importance he and the School District Board of Education place on accountability to the community and its taxpayers. "We respect that members of our community support our District with their hard-earned money and therefore, it is important to us to maximize their tax contributions to our District as best we can," Shaw stated. He gave special credit to his staff Brenda Gillespie, Cathy Kerns, Cindy Spangler, and Karen Walton who are diligent in their daily work to maintain a supportive yet crucial role overseeing the District's daily financial operations.

The School District is a major business enterprise and the largest employer in Hocking County. With more than 448 contracted employees and almost 500 substitute employees, the District assists in contributing to a vigorous regional economic growth and the quality of life in Hocking County. Shaw provided some statistics from his office for Fiscal Year 2014:
• Every two weeks, a payroll of over $829,000 was processed to pay employees with a gross annual payroll of over $21.5 million.
• For the 2014 calendar year, 952 W-2's were sent to individuals who received employee compensation from the District.
• The Office processed more than 4,000 accounts payable checks expending nearly $44.4 million dollars of which $34.1 million was from the General Fund.
• The Treasurer's Office monitored and maintained over 200 separate funds. Besides the General Fund these include state and federal grants, student activities, construction funds, scholarships, local grants, and others. All funds and accounts were reconciled each month to the penny!
• The School District accounts for one of the largest, if not the largest, food service operation (restaurant) in the county, with revenues that totaled almost $1.9 million and served more than 664,000 breakfasts and lunches during the year.
• More than $128 million in assets were managed through his office.

The District's Treasurer's Office staff participates in professional development opportunities to continue to meet the ever increasing Federal, State and local mandates for cost accounting, payroll and insurance directives-, and public funds accountability. With over one hundred twenty-two (122) years of combined experience in school business accounting, the Treasurer's Office is able to provide an effective and efficient business operation to the School District and its taxpayers.

The Auditor of State Award with Distinction is presented to local governments and school districts upon the completion of a financial audit. Entities that receive the award meet the following criteria of a "clean" audit report:
• The entity must file timely financial reports with the Auditor of State's office in the form of a CAFR (Comprehensive Annual Financial Report) – Logan-Hocking's report can be found at http://www.loganhocking.k12.oh.us/index.php?school=-8;
• The audit report does not contain any findings for recovery, material citations, material weaknesses, significant deficiencies, Single Audit findings or questioned costs;
• The entity's management letter contains no comments related to:
- Ethics referrals
- Questioned costs less than $10,000
- Lack of timely report submission
- Reconciliation
- Failure to obtain a timely Single Audit
- Findings for recovery less than $100
- Public meetings or public records

For further information, contact Treasurer Shaw at 740.385./8510 ext.2725 or pshaw@lhsd.k12.oh.us.


blog comments powered by

Disqus