Girl Scouts Learn About Energy
District
Written by: Tamara Smith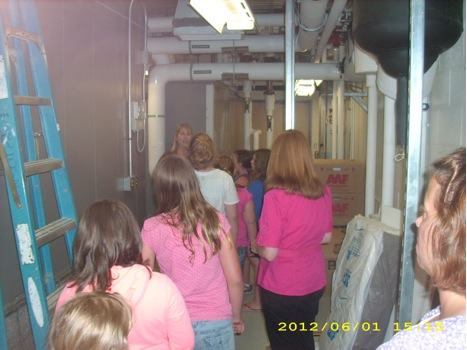 Girl Scout Troop 2632, along with their scout leader, Tami Anderson, had a lesson on energy from the Logan-Hocking School District's Energy Education Specialist, Tamara Smith. As part of the requirements for the Girl Scout "Get Moving" Journey badge, the group learned about the different forms of energy including solar, mechanical, chemical and electrical. The main focus of this session was on electric energy, how it is used and ways to conserve it.

There was discussion about the cost of electricity in Ohio and how changing behaviors reduces energy consumption, saves valuable resources and money. Ms. Smith explained the biggest consumers of electricity in a school, as well as at home, are the mechanical systems for heating and cooling. The girls brainstormed ways to reduce their personal energy consumption. Keeping doors and windows closed while air conditioning and heat are on, dressing appropriately for the weather and turning off lights were all ideas the girls shared.

Each girl conducted a mock energy audit of the library at Central Elementary School and identified items that used electricity. A Kill-A-Watt meter was used to show the girls how much energy, even small appliances (like a hair dryer) actually consume. They learned the energy terms watt, kilowatt and kilowatt hour. The girls took a tour of one of the three mechanical rooms at Central and learned about some of the heating and cooling equipment in the school.

The Logan-Hocking School District has been participating in an energy conservation program for the last eighteen months that has resulted in a savings of over $399,000 in utility expenses. Administration, teachers, custodians, maintenance, and support personnel have all contributed to the energy savings through their efforts to conserve, reduce and eliminate energy waste.



blog comments powered by

Disqus