Governor's Award of Excellence
Logan High School
Written by: Rita Jones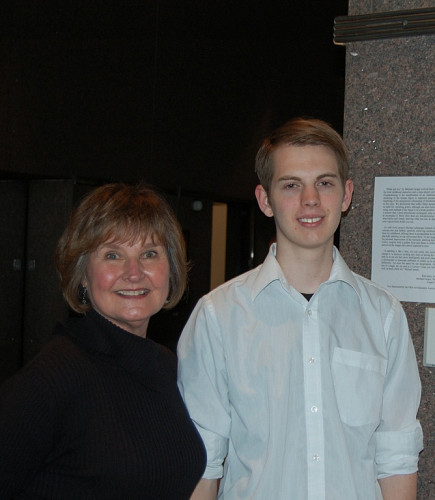 Logan High School Visual Arts student, Michael Geiger, received The Ohio Governorís Youth Art Exhibition Award of Excellence during ceremonies held Saturday, in the Capitol Theatre, at the Vern Riffe Center for Government and the Arts in Columbus.

Michael was among 25 high school artists selected from a field of nearly 13,000 entries to receive the prestigious award.

In addition to Governorís Award of Excellence, Michael received in excess of $46,000.00 in scholarship awards to the Columbus College of Art and Design.

His art educator, Rita Jones, was also honored for state excellence in the arts as a Top 25 Teacher.

In addition to his award winning work, Michael had a second piece selected for the show. His art is accompanied in the 300-piece exhibition by artwork rendered by Alex Flowers and Bailey Johnson. Michael, Alex and Baileyís work is currently on display in the Rhodes State Office Tower in Columbus.

A fifth piece, created by Abby Hughes, was selected as a part of the 25-piece show that hangs in the Ohio Department of Education Cameo Show.

The Ohio Governorís Youth Art Exhibition will run through
May 17 and is open to the public during regular business hours.

ďOn behalf of the LHS Visual Arts Department staff and students, I would like to congratulate these fine young artists for their outstanding achievements, with a special wish of good luck for Michael Geiger as he prepares to embark on his next artistic adventure at the Columbus College of Art and Design,Ē Rita Jones, LHS Fine Arts Department chair, concluded.

blog comments powered by

Disqus