Symphonic Band Receives Superior Rating
Logan High School
Written by: Ben Wright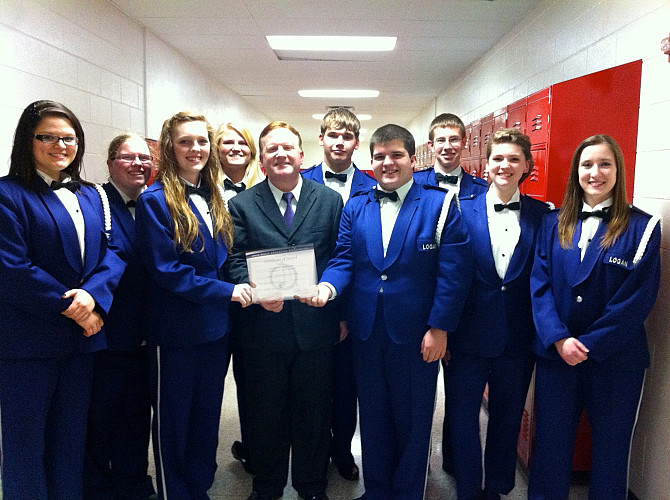 LHS SYMPHONIC BAND RECEIVES 24th CONSECUTIVE SUPERIOR RATING

The Logan High School Symphonic Band participated in the District XV Large Group Adjudicated Event on Friday night. The Symphonic Band was awarded a unanimous superior rating. The event was held at Groveport Madison High School. Participating bands were rated as Superior, Excellent, Good, Fair, and Poor.

The Symphonic Band, under the direction of Jeff North, received three superior ratings on the main floor and a superior rating in the sight-reading room to earn the unanimous superior rating.

Judge Darren LeBeau made the following observations: Very good overall band sound. I appreciate the dark brass sound. Overall good intonation. Sometimes a little top heavy. Tempos well suited. More rise and fall with expression. Good understanding of dynamic range. Well rehearsed band! Good looking group. Outstanding performance tonight. Great symphonic sound!

Judge William Davis made the following comments: Excellent individual and full ensemble tone quality. Careful to maintain control in full dynamic levels.. Listen and adjust for good intonation. Good tempo choices. Nice work on style. Note accuracy is well prepared. Work for uniformity of legato style. Excellent performance of a challenging performance. Continue to work on stylistic demands. You are well prepared!

Judge David Vitale made the following comments: Good tone quality. Watch for shrill tones in upper woodwinds. Some minor intonation issues. Good styles. Some minor timing problems in the Holsinger piece. Good posture and playing position. Great job this evening! Strive for warm tone in all registers. Blend all sounds. You play with a rich sound and good balance. Great energy!

Sight reading judge Charles Frank commented: Generally good tones. Watch balance of melodic lines. Flutes adjusted pitch nicely. Very spirited and solid tempos. Nice spots of expression. Nice staccato style. Good note accuracy. Nice job with rhythm accuracy. Your director's instruction to the band was very clear and covered many aspects of the music. This band clearly demonstrated fine sight reading preparation and capable performance skills. Good work!

Upcoming events for the Instrumental Music Department include The Spring Musical on March24, 25; Annual Spring Concert on May 3; Middle School Band Competition on May 11; Senior High Band Banquet on May 8; Alumni Day Concert on May 26; Graduation Ceremonies on May 25; and Memorial Day Parade on May 28.

blog comments powered by

Disqus