ACE Supports Academic Excellence
ACE
Submitted by: Rebecca Osburn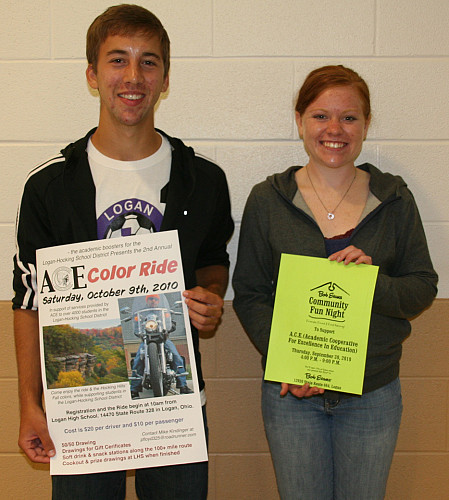 A.C.E. is the academic booster club for the Logan-Hocking School District. Its purpose is to support and promote academic programs in grades K-12 across the district by encouraging and recognizing academic achievement. During the 2009-2010 school year, A.C.E. awarded over $10,000 in mini-grants and student incentives for the performance and promotion of excellence in the classroom.
A.C.E raises the funds it distributes for grants and awards in a variety of ways. The organization has a wonderful partnership with the Moose Lodge, who generously donates funds to support A.C.E.'s mission. Through the support of the Moose, A.C.E. is able to award an even larger number of grants each year.
In addition, the group conducts fundraisers including special events and raffles. Two upcoming events include the A.C.E. Color Run and a Bob Evan's Community Fun Night. The Color Run, which is a motorcycle ride through Hocking County to see the changing foliage, is scheduled for Saturday, October 9th. For more information on this event, please call Mike Kindinger at Logan High School 385-2069, Extension 1114.
The event at Bob Evans, where A.C.E will earn proceeds from diners who present an A.C.E. flyer, is scheduled for Thursday, September 30th from 4:00 p.m. – 9:00 p.m. Flyers will be distributed to all students in the Logan-Hocking School District and can also be found at all school buildings and on the LHSD website under "Hot News". For additional information regarding this event, please contact Kim Walker, A.C.E. treasurer, at Logan–Hocking Middle School, 385-8764, Extension 2618.
The group is also currently conducting its annual membership drive. Members of the community have the option of joining A.C.E. by purchasing an individual, family or business membership. Membership forms are available on the A.C.E. link (under departments) on the Logan-Hocking website.
ACE Color Ride Poster
blog comments powered by

Disqus